Top 5 Best Places To Visit In Kerala:Hello friends welcome to another article Top 5 Best Places To Visit In Kerala.Today i am going to share some exciting facts on Kerala.Kerala is one of the most beautifull place in India and my favourites one.Many films shooting location in Kerala like- (Ye Maaya Chesave),(puli),(Baghi) and more.So lets see the Top 5 Best Places To Visit In Kerala..
1.Kumarakom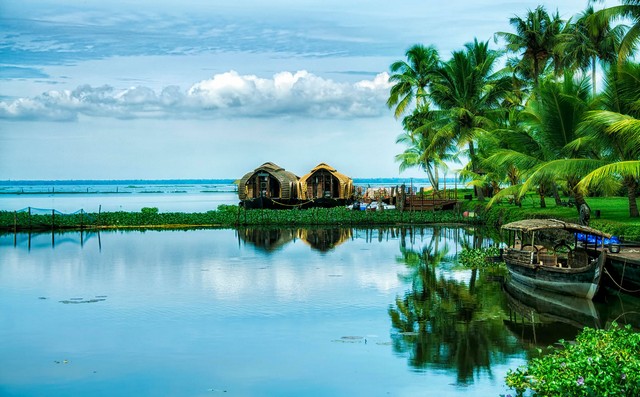 If you have craved to stay in a small village in Kerala for enjoying the backwaters, sipping on tender coconut water, tasting some authentic Kerala food and experiencing the warmth of fresh air, Kumarakom is the place you should be in when you travel to Kerala. Situated near the Vembanad Lake, Kumarakom is a sleepy little hamlet with exotic scenery and rare flora and fauna. The place offers boating, house boat cruising, fishing and sightseeing. Canals, waterways and lakes decorated with lilies and lined with coconut groves, green paddy fields and mangrove forests will be quite tempting for any visitor to have a stress relieving vacation. Kumarakom is situated near to Ayemenem town where the popular book The God of Small Things was set is the most awesome position in Kerala (arguably) providing you the most delightful Kerala food. Sailing through the relaxed wealthy waters of Kumarakom in an experience in Kerala in itself. Spread across 14 acres, the sanctuary accommodates varieties of birds including teal, wild duck, egrets, herons, cuckoo, waterfowl, darters and also migratory birds. The place offers boat trip around the islands giving you a breathtaking experience of watching the birds and the nature's beauty. The sanctuary is open for public daily from 6AM to 6PM.Checkout our post on Kumarakom Village and the houseboat experience in Kumarakom
2.Thiruvananthapuram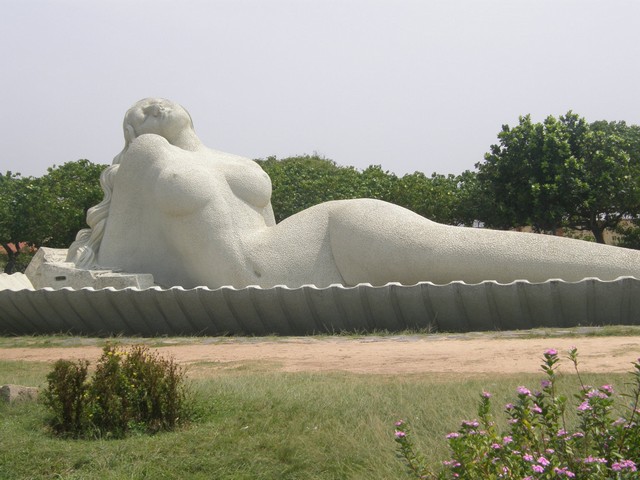 Thiruvananthapuram which is the capital city of Kerala is a blend of serenity and city life.Thiruvananthapuram means The City of Lord Anantha is of historical importance and has many stories to unfold. Thiruvananthapuram owes a lot to Padmanabha Swamy Temple – for the charm, fame and the name. This huge temple dedicated to Lord Vishnu situates in the heart of the city, East Fort. A mix of Dravidian and Kerala architectural style, the Padmanabha Swamy Temple is the right place for art lovers as it holds many ancient stone carvings and mural paintings. The divine idol of Lord Vishnu reclining on the Serpent Anantha is yet another treat to the eyes.
Being the largest and the most populous city in Kerala, Thiruvananthapuram has people from various parts of the state living here in social, religious and cultural harmony. The city also holds India's first IT Park and Asia's third largest, Technopark, making it a land of technology as well. As large as it is, Thiruvananthapuram has many breathtaking locations, of which some must-visits are Kuthiramalika Palace Museum , Napier Museum , Ponmudi, Kovalam, Veli Tourist Village and Thenmala Sri Padmanabhaswamy Temple which is the riches temple in the world is also in trivandrum. .
3.Varkala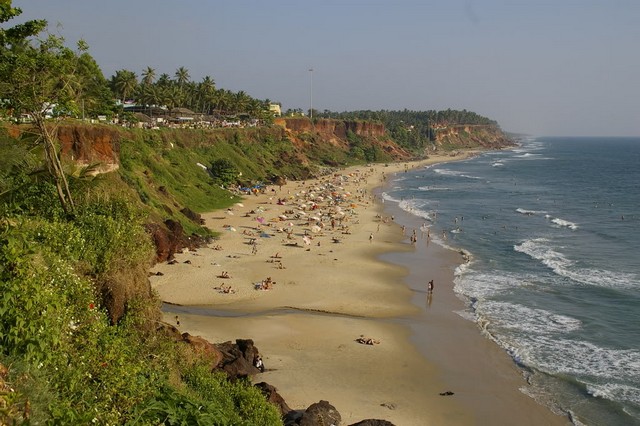 Varkala in Kerala is a amazing beach with a little seaside and a high high cliff part which is complete of action and is among the best seaside places in Kerala . 51 miles away from Thiruvananthapuram, on its northern side, Varkala has the appeal and potential to entice guests from all over the world with its natural charm and high cliffs. The seaside is quite well-known among people from other countries as its journey and enjoyment provides many interesting activities such as sun bathing, boat riding, surfing and ayurvedic massages. Varkala also is unique as a important pilgrim of the Hindus and the beach called Papanasham which translates into was away your sins is supposed to be the best place to look at the sunset. The long unique seaside places, amazing resorts, fresh air etc attracts the guests to Varkala, who wish to have a less crowded beach vacation than that in near by Kovalam. The unique and amazing destinations of varkala is one of the best cases for the appeal of God's Own Country. Varkala seaside is about one range long and divided into two. The northern end is for sun worshippers & the south east end is for Hindu lovers and the varkala tourist sightseeing include attractions like Varkala Beach, Janardhana Temple , Sivagiri Mutt and Kappil Lake.
4.Asthamudi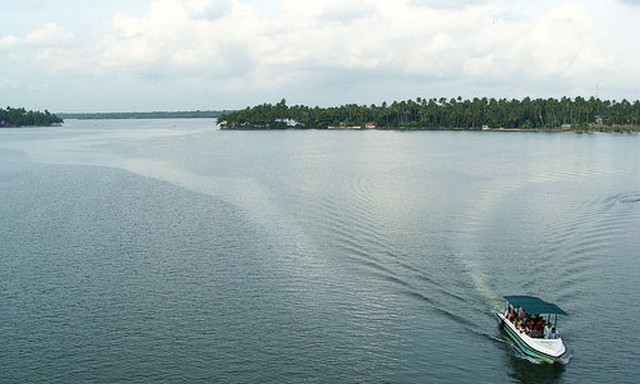 Ashtamudi translates into eight channels and translates in local language as a lake with eight branches and is the second longest lake in Kerala stretching a distance of 16 kilometers finally merging into the sea at the estuary in Neendakara in Kollam. The backwater cruise between Ashtamudi and Alleppey is considered to be the longest in Kerala and is the best experience to intimately experience the best backwaters in Kerala . Ashtamudi lake is the best place to enjoy the serene beauty of the coconut groves and palm trees along the banks the backaters and is less crowded unlike Alleppey. Munroe Island (Munroethuruth) which is located at the confluence of Kallada river and Ashtamudi lake is a cluster of eight tiny islands is named in honour of Resident Colonel John Munro who oversaw the land restoration efforts in Kallada river adjoining the Ashtamudi lake. When you enjoy a cruise in Ashtamudi lake you can enjoy the sightings of Chinese fishing nets which is locally known as cheena vala which is used for fishing and other activities like coconut husk retting used to produce coir products and the canoe from which the ripples from the oar spreads out in the backwaters.
5.Marari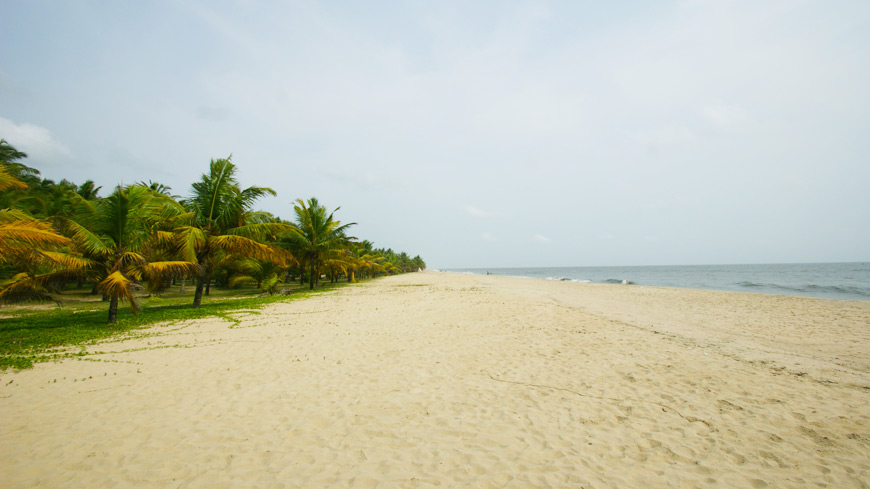 Marari Beach just 2 kilometers away from Allepey which is famous for the best backwaters in Kerala, so it's easy to combine a backwater cruise with a beach stay and see the two best sides of Kerala. Mararai is not much crowded like Kovalam and Varkala and is a long, undeveloped stretch of white sand bordered by palm trees and sleepy fishing villages. You can see the boats lined all over the coastline and can also watch fishermen going to the seas to catch daily fish in dawn. Marari has some of the best beach resorts in Kerala which are either beside the beach or just walking distance away. Marari beach is of the 'endless-golden-sands-where-you-won't -see-a-soul' variety, usually touted for their peace and quiet of beaches and Marari Beach is an undeveloped stretch of white sand bordered by palm trees and sleepy fishing villages.
So friends this are the Top 5 Best Places To Visit In Kerala.We hope you guys must enjoy this article.Kerala is alway beautifull and most beautifull during the rainy day.If you guys planning to visit in kerala,then must read this article carefully.If you guys have any queries or questions then do let me know in the comment box below.